Boost your Online Sales and Profitability with our smart end to end eCommerce Solutions
Being the customer's choice is the true test of our worth in a competitive marketplace
Why Vidushi for eCommerce solutions:
VidushiTM has a huge experience on eCommerce solutions since 10+ years now. We have built the most customized solutions in platforms like ASP, ASP.NET and PHP. The skilled team has a large exposure in open source platform like WooCommerce, Magento, Prestashop, Virtue Mart and OpenCart.

We easily understand your requirement understanding the various interfaces of a eCommerce functions based on Orders, customers, Stocks, taxes, shipping, payment gateways and various 3rd party interfaces like Quickbooks, CRMs, SAGE, eBay etc and convert it to the most realistic smart solution.
The team can easily drill down the requirement and deliver a smart solution that delivers a high ROI via our eCommerce SEO plan.
For more details: Check - http://www.vidushiinfotech.com/e-commerce-seo-package.asp
WooCommerce Solutions:
Security – With a blended combination of Wordpress and WooCommerce 2.0+ we provide a fully security audited by the leading WordPress security firm Sucuri to ensure it meets the highest WordPress security standards possible.

Comprehensive Store Management – Easily manage your simple, digital and variable products in WooCommerce with our intuitive UI. Assign Store Managers to handle the day to day management of your store.

Reporting - Get a birds-eye view of your stores performance or drill down to check out reports per month, per product category or even per individual product.

Marketing & Promotion – You can run complex coupon campaigns offering a range of discount options, usage limits and product / user restrictions as well as free shipping.

Intricate tax & Shipping options – It includes various methods for shipping classes to create intricate shipping rules. Configure comprehensive tax settings with tax classes and local tax rates.

SEO – This eCommerce markup adheres to Schema vocabulary to fully assist your search engine rankings and is, of course written in fully semantic HTML5 markup.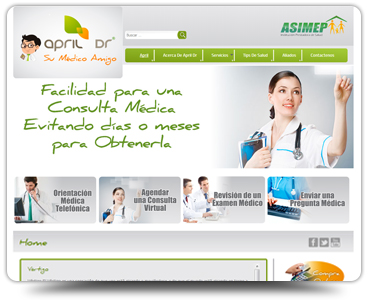 Magento Solutions:
Magento is a feature-rich eCommerce platform offering complete flexibility and control over the look, content and functionality of an online store. When it comes to flexibility, functionality and design, no other open source solution in the market is comparable to Magento. It is developed using Framework that results in a robust, fast and feature rich ecommerce application

Our Magento Solutions include:
Magento Theme design
Magento development
Magento customization
Custom module development
Setup, Installation and Configuration
Demo Link: http://magento.vidushiinfotech.info/
More details: http://newsletter.vidushiinfotech.net/January11012012/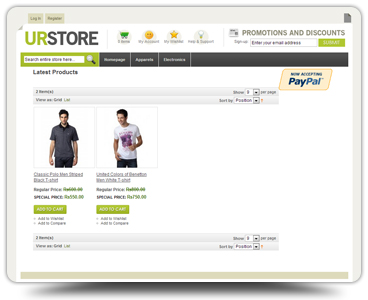 Prestashop Solutions:
Prestashop is an open source ecommerce web application with multilingual support. It is a PHP and My SQL based and using WYSIWYG rich editor. With unlimited flexible features, and multilingual support, it provides you user friendly and magnificent themes/ templates to run your business. We can also modify Prestashop themes/ templates for developing personalized online shopping stores. Our Prestashop Solutions include:
A world class multi featured Catalog
Customers groups, customer follow ups and loyalty system
Flexible orders placement with one page check
Out and return management
Multiple Payment Methods
Multi lingual support and also supports online translating tools to convert the content of the website into desirable language
Prestashop avails you websites with high search engine optimization
Customized back- office, maintenance mode, WYSIWYG text editor and ability to add modules etc. It provides you a great control on the web pages
Modular Front- Office: With Prestashop you get the freedom to customize the templates.
Demo Link : http://prestashop.vidushiinfotech.info/
More details : http://newsletter.vidushiinfotech.net/January11012012/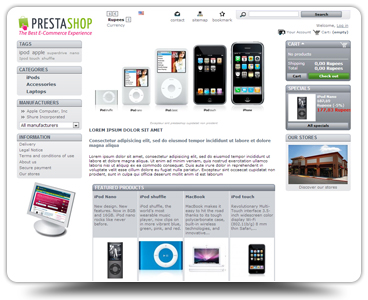 Sample eCommerce Sites:
Woo Commerce

Open Cart Solution

Magento eCommerce